Wiki Menu

Game Menu

Orders, Buildings, Items(Menu), Item and Place, Stockpiles, Zones

Items

Crafted Materials, Decorative, Furniture, ITEs, Military, Food, Utils, Raw Materials

Living Things

Industry

Food production, Crafting? Military?

Development

Custom buildings!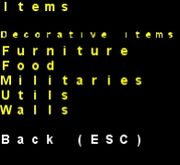 The Items list in the game menu allows players a quick way to craft items. Within the Items list, you have 6 catergories with several crafting options for each. If you want to build a bed for example, you could go to the items list, select funiture then bed. Clicking multiple times on an item will create a queue for this item resulting in several being made. Currently, there is no way to view this queue. Hovering your mouse over an item will give a breif description and resources required to build it. Some will only require materials, while others will also require Utils such as a Stove or Mason's Bench.
Bellow is the breakdown of the Items menu with a list of the items you can craft:
Decorative Items

Barrel
Candlestick
Chest
Potted Plant
Torch

Furniture

Wooden Bed
Wooden Chair
Wooden Cupboard
Wodden Table

Food

Apple Pie
Bread
Cooked Chicken
Cooked Pork
Cooked Steak
Pork Pie
Pear Pie
Roast

Militaries

Armors

Wooden Set
Iron Set
Spiderbane Set
Horde Set
Yellowlick Set
Mangy Set
Stealthy Set
Necrotic Set
Ghastly Set
Beastly Set

Weapons

Iron Long Sword
Iron Short Sword
Arachnid Bow
Wooden Bow
Wooden Longsword
Wooden Short Sword
Stone Spear

Utils

Baker's Oven
Baker's Table
Bridge
Carpentry Bench
Ladder
Mason's Bench
Medicine Cabinet
Stone Hammer
Stove
Wood Detailer

Walls

Log Wall
Stone Wall
Wooden Wall
Ad blocker interference detected!
Wikia is a free-to-use site that makes money from advertising. We have a modified experience for viewers using ad blockers

Wikia is not accessible if you've made further modifications. Remove the custom ad blocker rule(s) and the page will load as expected.